When the injectors and fuel pump are upgraded to a larger flow setup the stock fuel pressure regulator will not be enough to suit the required pressures for the new setup. Also the stock is already preset to from factory for the standard setup and non adjustable so it will be restricting the tuning potential of the car. The TOMEI Fuel Pressure Regulator will ensure stable pressures are supplied with the oversized diaphragm. This special design has proven to maintain the required pressure levels with any adjustments made.
FEATURE / SPEC
Made from billet aluminum with a hard anodized finish to cope with the extreme conditions in the engine bay while maintaining great looks.
HARD ANODIZED FINISH

---

The Hard Anodizing finish adds more protection to the Regulator since the Regulator will spend it's time in a harsh environment. This finish helps protect the thick membrane from harmful grit and grime and with the additional resistance to corrosion and heat and electrical insulation these aspects help maximize its durability and safety.
AN6 1/8×2 / #8 STRAIGHT 1/8NPT×2 FITTINGS

---

Our Regulators are supplied with 2 of each AN6 and #8 nipple connectors which are the most popular type of fitments for fuel piping. Ready to install and use from the box. *Depending on your setup you may require additional equipment/parts to complete the install.
* Other piping is required and not included.
FOR GENERAL TUNING

FOR HIGH FLOW, BIG POWER & HIGH BOOST

ADJUSTABLE FUEL PRESSURE REGULATOR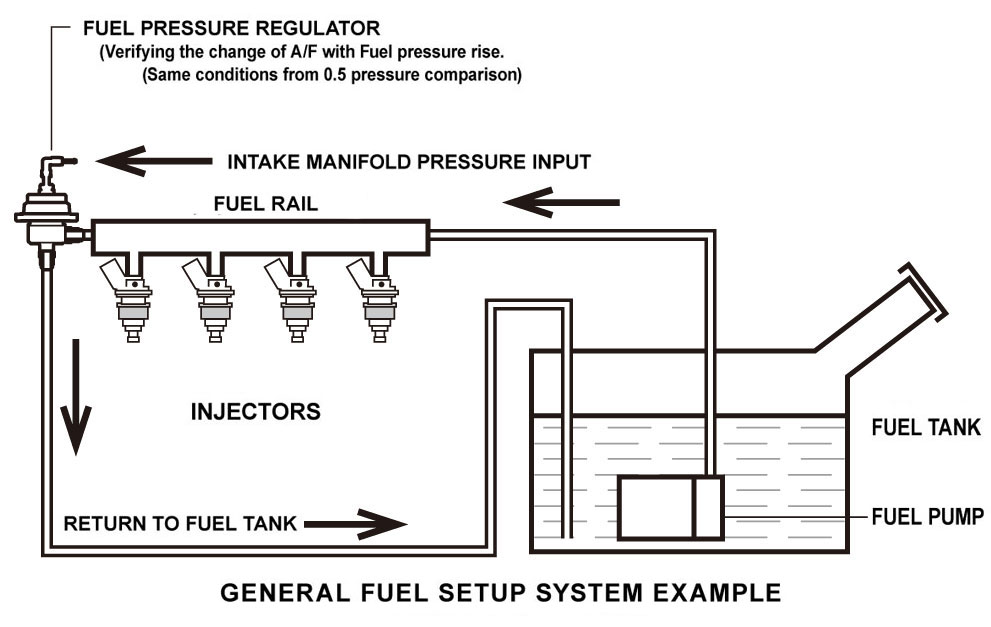 When the engine is idling low the fuel flow used compared to full power is only approx 15%. Therefore most of the fuel that is sent by the pump will be returned to the fuel tank. When the engine is tuned the optimum efficiency can be obtained with the optimum mixture of A/F ratio. When the fuel pump is too large and the regulator is not strong enough to handle the excess fuel that it is receiving it will then not be able to regulate the flow to allow the fuel to return to the tank. This will cause the fuel pressure to be too high and too much fuel to be pumped into the engine which will lead to over enrichment and poor fuel efficiency and a variety of problems will occur.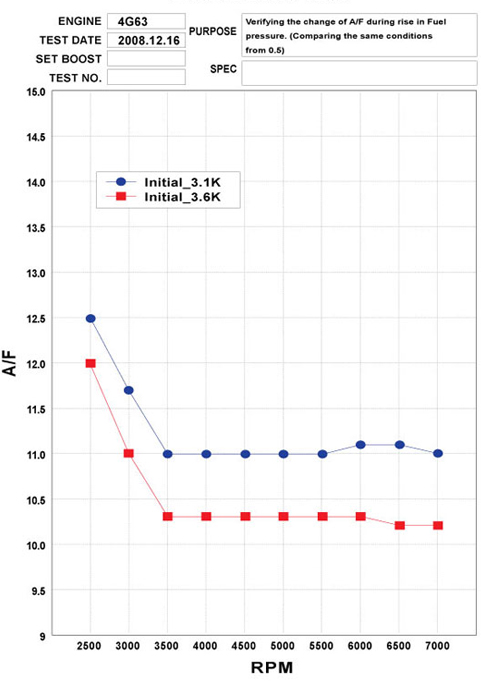 * When the fuel pressure changes from 0.5kgf/cm2 it greatly affects the settings due to the A/F difference will change from 0.5 or more.
When the adjustable fuel pressure regulator is set to optimize the injectors the best fuel consumption and burn ratio can be achieved.
* Low Fuel Pressure
Inefficient Fuel Supply. Poor Fuel Consumption.
* High Fuel Pressure
Operational Problems e.g. Solenoid Failing to Close.
The optimum fuel pressure is then maintained and controlled by the change in pressures from the intake manifold.
| | |
| --- | --- |
| The balance of pressure inside the regulator (Pf+Pm=F/S) maintains the fuel pressure from when the valve opens by the pressure in the intake manifold. | |