TEIN Mono Racing
Specifications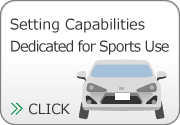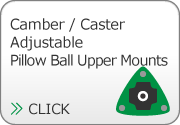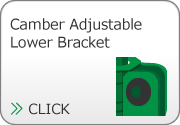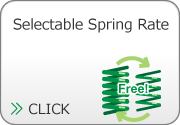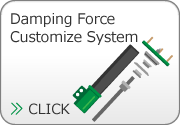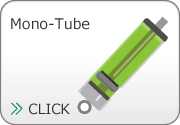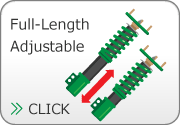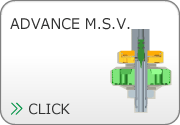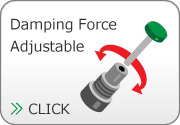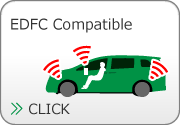 Product Specifications

MONO RACING is developed to satisfy the drivers who frequently take their cars for a spin at the race tracks. Based on the settings of the high-end model SUPER RACING and on a wealth of data gained through participation in various motorsports, spring rates and damping force for MONO RACING are determined to be most suitable for sports driving.

For front strut suspensions, MONO RACING includes the camber and caster angle adjustable pillow ball upper mounts evolved from SUPER RACING upper mounts. Many upper mounts provide camber adjustment feature, but MONO RACING upper mounts are also caster adjustable. Camber angle can be adjusted steplessly while caster angle adjustment is available in 4 steps and both can be adjusted individually.
*Except some models.


Lower brackets on strut type suspensions come with camber angle adjustment feature. Camber angle can be adjusted by rotating the eccentric collar 180°.
This feature can enable camber angle adjustment, even if it can not be adjusted with the upper mounts. Both adjustments at the upper mounts, if applicable, and the lower brackets combined allows for total camber angle adjustment to meet various needs and preferences.
*Eccentric collars with different offsets are available (optional).
*Except some models (e.g. struts with inset type brackets)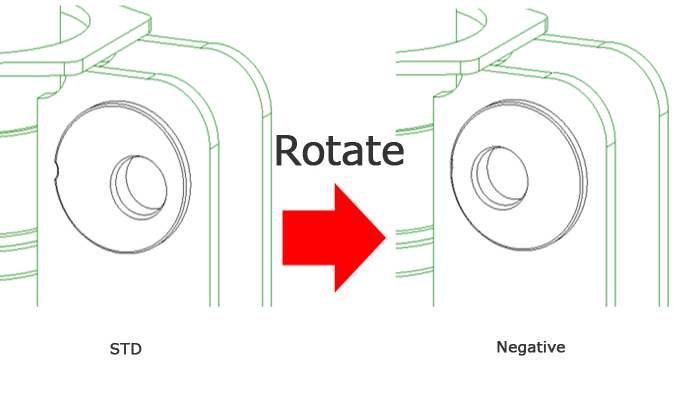 At the time of purchase of a new MONO RACING kit, +/-2kgf/mm of the standard spring set can be chosen, for a free of charge.
*Only +2kgf/mm springs are available for some models.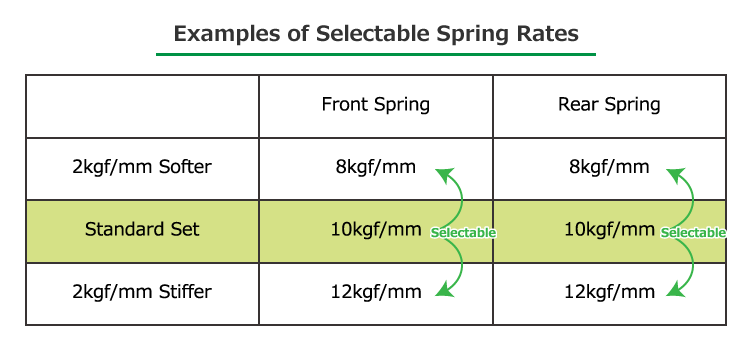 Thinking of customizing the damping force settings and/or stroke length, to meet your driving styles? You can have that done when purchasing a new kit at lower prices than having overhaul job done later on.
Normal lead time is about 2 weeks from the time of order.
Extending Stroke charge includes the price of replacement piston rod.
Stroke change service might not be available for some vehicle models. Consult TEIN for details.
Multi-Link / Wishbone
Strut
Damping Force Customize System
(Only available at the time of purchase of a new MONO RACING kit)
Revalving Only
JPY 11,000
JPY 13,000
Shortening Stroke
JPY 12,500
JPY 14,500
Extending Stroke
JPY 18,500
JPY 22,000
Normal Overhaul & Revalving
(After purchase)
Revalving Only
JPY 15,500
JPY 18,500
Shortening Stroke
JPY 17,000
JPY 20,000
Extending Stroke
JPY 23,000
JPY 27,500
(MSRP per single damper, excl. tax)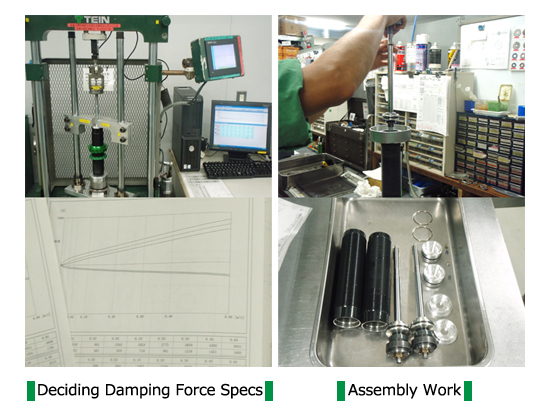 Mono tube structure of MONO RACING completely separates the oil chamber and the gas chamber and hence aeration does not occur. This enables stable generation of linear damping force, reacting to the finest changes in road surfaces, even when running aggressively and repeatedly on circuits. With this, superior-quality MONO RACING offers capability for the most delicate control of the vehicle and for the deepest level of communication with the roads.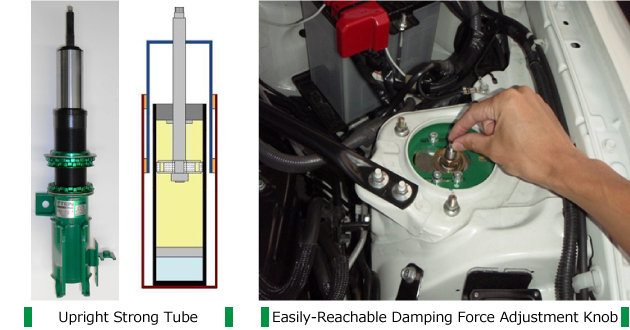 For strut type suspensions, which require high lateral stiffness, highly-rigid «Upright Strong Tube» structure, the fruit of participation in professional motorsports worldwide such as WRC & WRX, is adopted.
Damping force adjustment knob attached to the top of the shock absorber allows easier access, making the repeaded adjustment within the limited time less hassle, and makes the installation of EDFC motors (optional) a breeze.
Waterproofing process, which is a must for inverted types, is reduced/simplified greatly.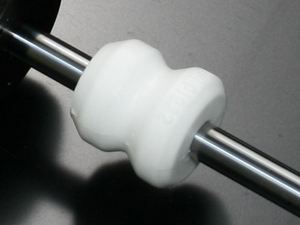 Use of specially-designed urethane bump rubbers effectively reduces the bump impact, to maintain the comfortable ride even when going over bumps/gaps and to protect dampers from bottoming out. (The image shown is for wishbone / multi-link types. Some models use OE bump rubbers.)

Advantage: adjusting ride height has little effect on ride quality.

In addition to combining a low down style with ride comfort, this system offers more setup options for sport driving too.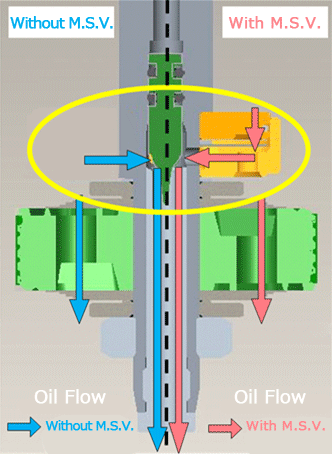 MONO RACING uses «ADVANCE M.S.V.» for damping force adjustment feature. «ADVANCE M.S.V.» combines «M.S.V.» mechanism to finely control damping force in micro speed range with «ADVANCE Needle» to widen the damping force adjustable range, for superior steering response and traction performance, fully utilizing the damping force adjustable range.

MONO RACING features 16-level damping force adjustment, for simultaneous adjustment of compression and rebound.
Modify ride comfort and handling according to your preference, changing the properties of the shock absorber with the adjustment dial.



The EDFC Series offer easy damping force adjustment from the driver's seat.*
* Some vehicle models are not compatible


EDFC Series Lineup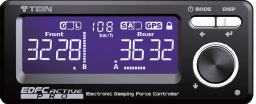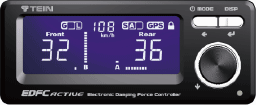 Optimal Dust Boot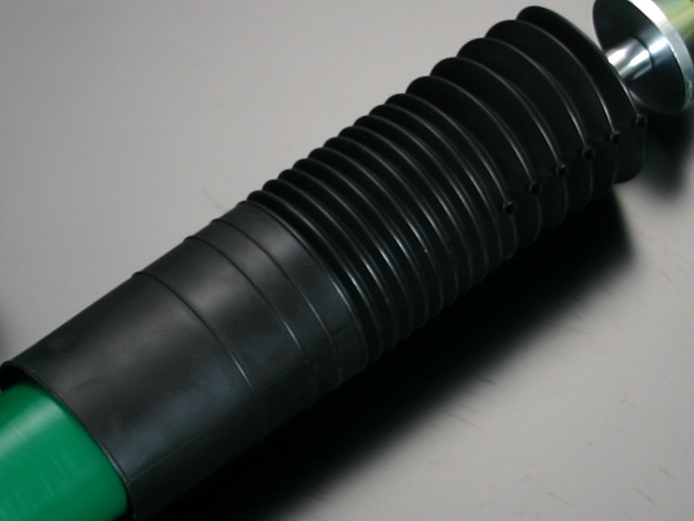 Thanks to its smooth compression and high durability, the dust boot guards the piston rod from damage, and keeps foreign material out of the shock absorber.
(Some vehicles use their OE dust boots)
No-Sag Spring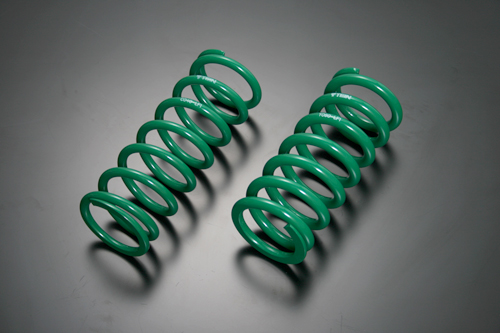 Cold formed with SAE9254 steel (minimum tensile strength 200 kgf/mm2), our springs are outstandingly sag-proof and boast extreme resiliency.
Superior rust protection is ensured with a highly durable powder coating that does not peel or flake. Our high-quality springs can be used without worries, in any conditions.
High-Performance Damper Oil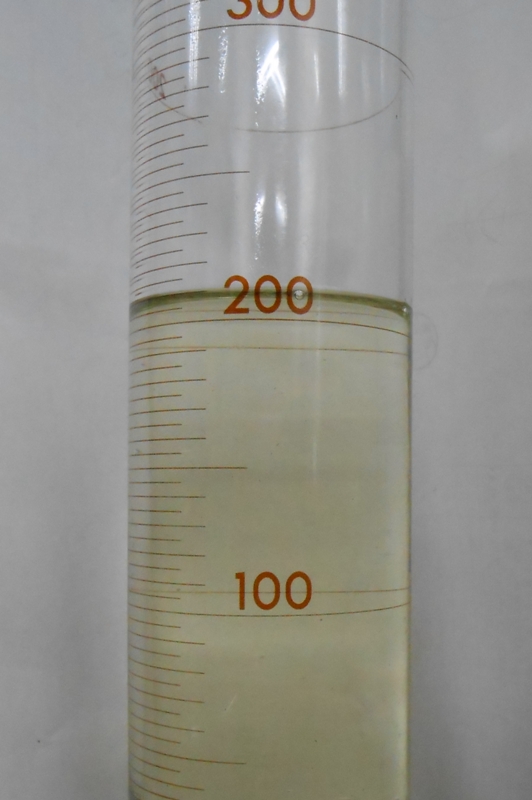 Since TEIN's damper oil maintains a stable viscosity in a broad temperature range, it sustains smooth stroke and reliable damping force in a variety of circumstances.
Due to excellent anti-foaming properties, it's resistant to cavitation (bubble forming). Since it withstands high heat too, it's suitable for intense sport driving as well.
Furthermore, the damper oil keeps up its superior performance long-term, because it's resistant to deterioration over time.
Rust-Proofing
TEIN-Green Powder Coating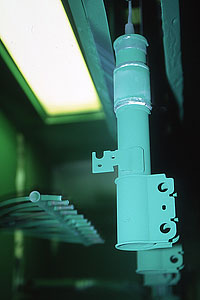 A bright TEIN-green powder paint is used on the shock absorber's shell case. Our powder coating technique produces an extremely strong and durable barrier. No harmful organic solvents are used, for minimal pollution.
Superior durability and corrosion resistance are achieved by TEIN's patented 2-Layer, 1-Bake powder coating method, which uses 2 layers of anti-rust paint on a blasted surface.
(Japanese patent number 4347712)
Special Surface Treatment 'ZT Coating'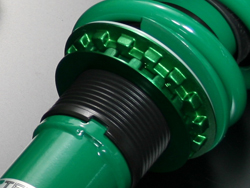 Our unique ZT Coating surface treatment on the ride height adjustment thread is abrasion resistant against gravel/debris, and further enhances its corrosion resistance.
With zero claims for stuck parts due to rust in 500,000 shock absorbers, TEIN shock absorbers are amazingly rustproof. We're confident of customer satisfaction even in coastal areas or regions with heavy snowfall.
>>We're confident of TEIN shock absorbers' surface treatment!