AERO PARTS
Aero Bonnet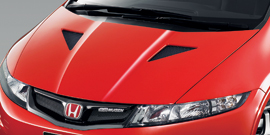 Aero bonnet equipped with air outlets to vent hot air from the engine
Direct replacement for the OE bonnet
GFRP, Unpainted
Recommended color for air outlet panel: Matt Black
Front Sports Grille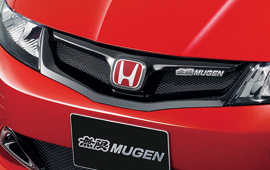 Direct replacement for the OE grille
Red Honda H emblem needs to be removed from the OE grille and reused on the MUGEN grille.
Grille comes complete with MUGEN emblem as well.
GFRP, Unpainted
Recommended color: Night Hawk Black Pearl (B92P)
Front Aero Bumper
Front aero bumper equipped with air intake ducts for brake cooling
Direct replacement for the OE bumper
OE fog lights can be used. Where the air intake garnish sold separately is installed, the OE fog light needs to be removed.
GFRP, Unpainted
Recommended colors: Air intake duct and lower part of bumper / Night Hawk Black Pearl (B92P)
Bumper fitment requires modification to fender mole, fender cover, and bulkhead lower cover.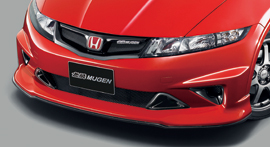 Front Aero Bumper + OE Fog Lights.     Front Aero Bumper + Air Intake Garnish
Air Intake Garnish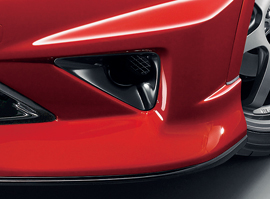 Air intake garnish* conducts fresh air directly into the Hi-performance air cleaner & box.
Requires removal of OE fog lights for installation
Garnish can be installed on either OE bumper or MUGEN front aero bumper.
GFRP, Unpainted
A set of right and left garnishes
Recommended color: Night Hawk Black Pearl (B92P)
OE Light switch needs to be replaced for a lighting switch without fog light (35255-SNA-J01) for installation. *Left hand side only
Front Aero Fender
Front aero fenders equipped with air outlets to vent hot air efficiently from the engine
Direct replacement for OE front fenders
GFRP, Unpainted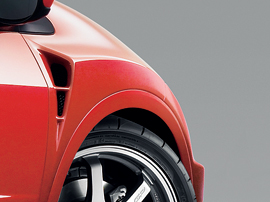 Rear Wing
Fit in place of the OE tail gate spoiler
Wing base: GFRP, Unpainted
Wing blade: Blow formed ABS, colored by Night Hawk Black Pearl (B92P)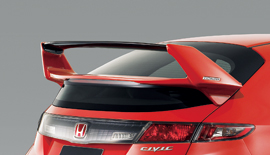 PERFORMANCE PARTS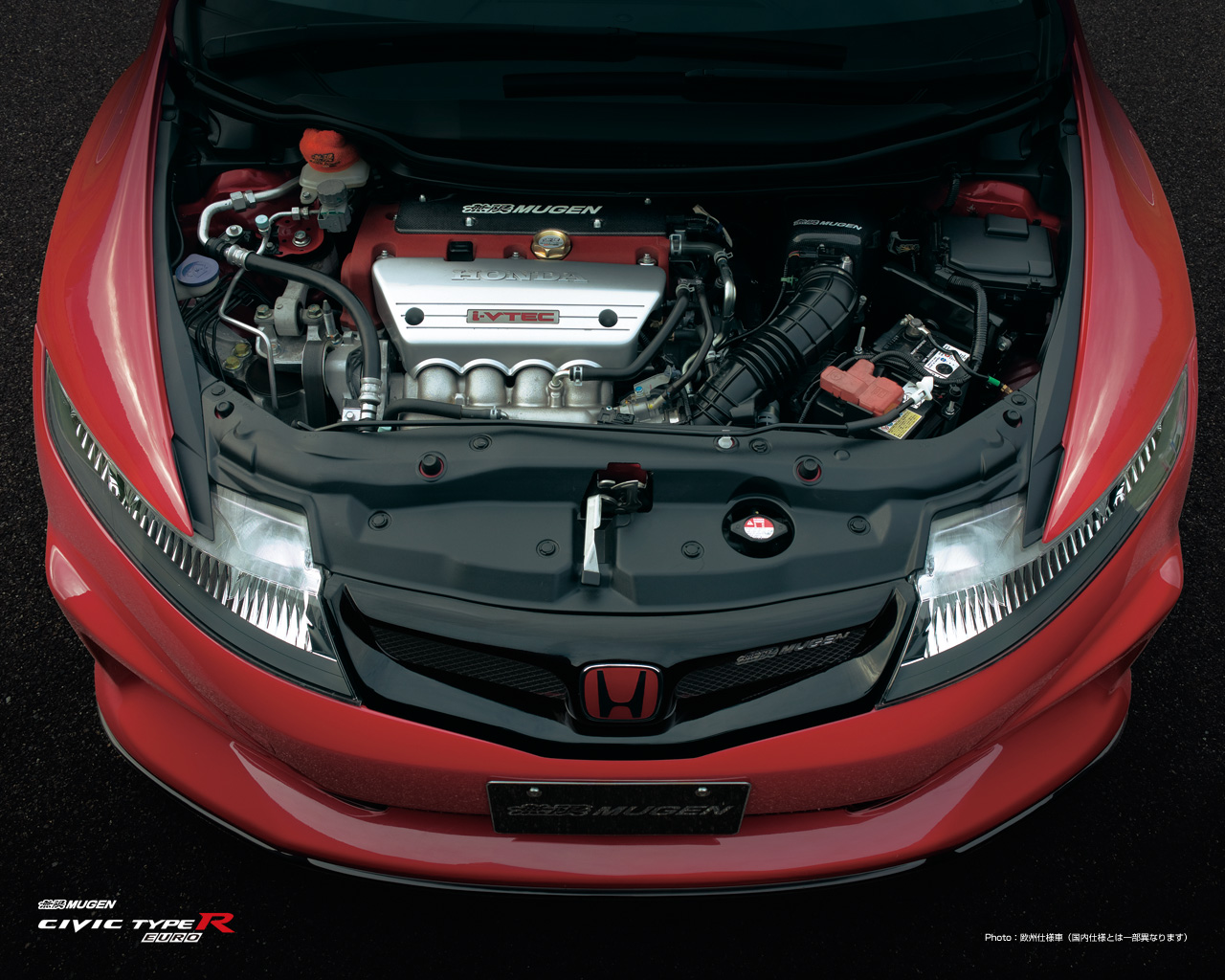 Hexagon Oil Filler Cap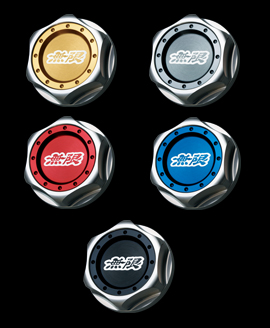 Precision-machined from solid aluminium and hard-anodised finish, Two piece structure, MUGEN logo is on top. Grip part is hexagonal for easy grip. 5 colors are available: Champagne Gold, Silver, Red, Blue, and Black
Hi-Performance Oil Element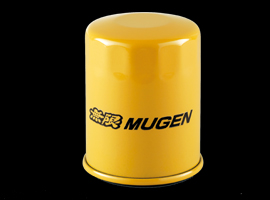 The filtering range and position of the filter are optimized in order to eliminate sludge deposits as much as possible, as a result reduces the low pressure loss (improved by 10%) while significantly increasing the high temperature resistance capability. By adopting a "Y" shape internal filter, which efficiently traps sludge on the filtering fibers MUGEN engineers have been successful in reducing the amount of harmful contaminants re-entering the engine lubrication system. Because of the materials, anti-heat acrylic rubber (gasket) and silicon rubber (anti-drain), this oil element functions without any problems in the high temperature condition of the VTEC engine.
Ignition Coil Cover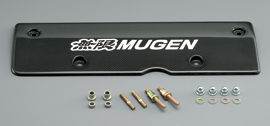 Close-up picture
Ignition coil cover made of autoclaved dry carbon
Advanced Complete Brake System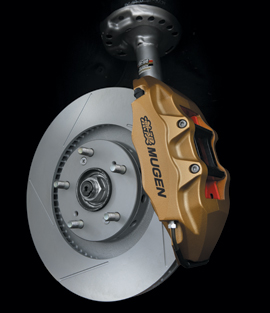 The ultimate brake system for both street and circuit driving; comprising of the newly-developed front monobloc 4-piston caliper, front and rear pads, front rotor, and micromesh brake lines.
A complete combined braking system developed and tested with professional drivers at demanding race circuits such as Twin Ring Motegi, and others, for absolute performance. Using high end data capture and analysis the result is a superbly balanced brake system with an unmatched level of touch and feel for the driver, with the endurance to cope with the most severe of conditions.
Assist Meters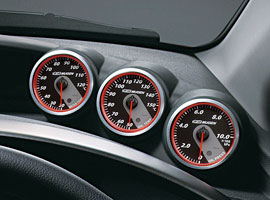 Water temperature and oil temperature meters are all contained in the meter cowl exclusively designed for CIVIC TYPE R EURO. The shape and position of the cowling is designed and arranged so as not to obscure the driver's line of sight, but at the same time to be easily viewed whilst driving. Meter diameter is φ60mm A set of sensors, special harnesses, and a control unit.
Meter cowl is painted matte black.


[Illumination]When the side lights and head lights are turned on, the figures and scales in the panel board are illuminated in Green and the needles are illuminated in Red.

[Peak Mode] The peak value of each meter during vehicle running is indicated by the respective needle.

[Warning Mode] Whenever a reading from the engine sensors exceeds the user pre-set value, the warning LED in the panel board lights up (in case of oil pressure gauge, if the value is less than the set value, then the warning LED lights up). A useful replay mode in which each meter simultaneously records and reproduces the running condition for a maximum of 40 seconds is available.
PD: More info and parts http://www.mugen-power.com/common/english/products/CIVICTYPE-R_EURO/parts/index.html