Racer Gauges are quick-responsive and high-accurate analog gauges.
The dial are not visible until the ignition is turned on. Gauges operates standalone and control unit is not necessary.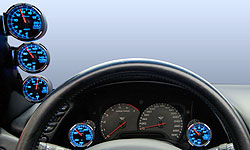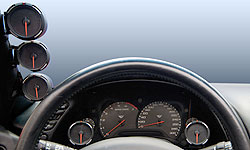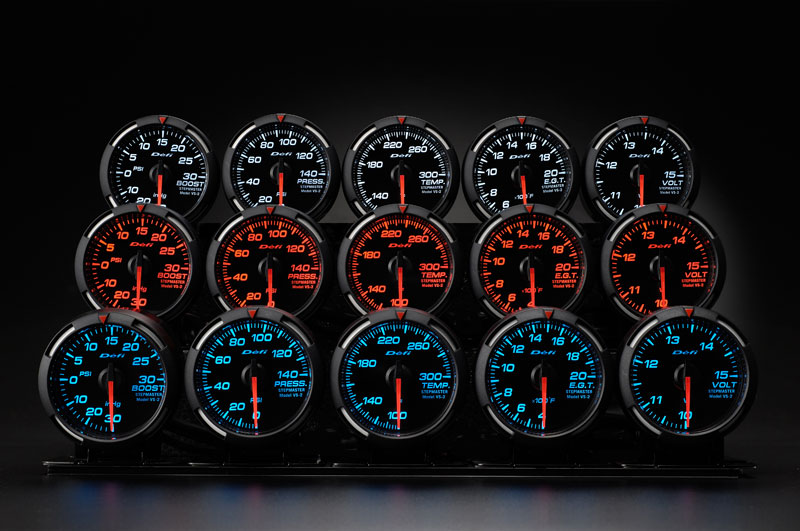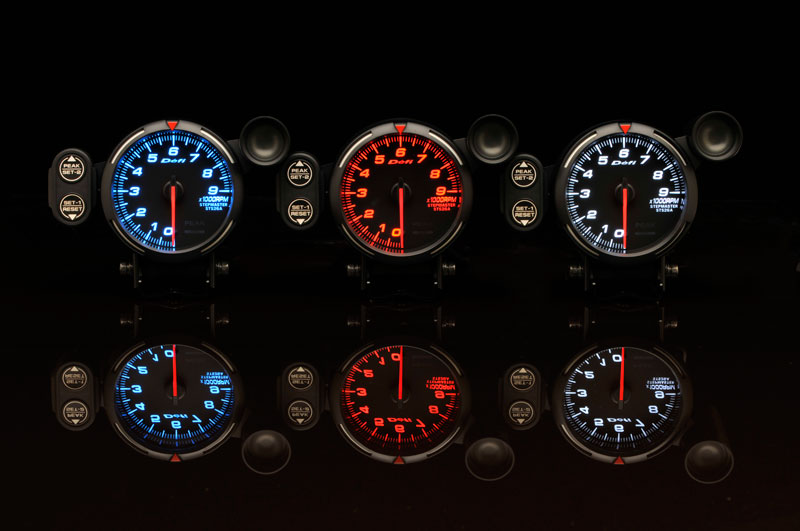 The illumination colors are blue, red, and white.
The pointer colors:JDM models are red. USDM models are red and white.
Refer to each lineup pages.
2 1/16″(52mm)
2 3/8″(60mm)
(Pointer: red)JDM and
USDM series
Ignition off
Ignition on
(Blue)
Ignition on
(Red)
Ignition on
(White)
2 1/16″(52mm)
(Pointer: white)USDM series
Ignition off
Ignition on
(Red)
3 1/8″(80mm)
(Pointer: red)JDM series
Ignition off
Ignition on
(Bue)
Ignition on
(Red)
Ignition on
(White)
*Racer Gauges cannnot be linked to the Defi-Link System or ADVANCE System.
Main specification
Standalone
Commercial attachment necessary
Stepping motor:
"STEP MASTER VS-2″ for Φ52 and Φ60, and "STEP MASTER STS26A" for Φ80 provides smooth operation.
Control unit NOT necessary/non-link system
Illumination color: white/red/blue
Opening mode/Ending mode
LED illumination
Illumination ON/OFF: interlocked with vehicle illumination switch
Mounting bracket attached
Lineup
Racer Gauges are available in Imperial units(PSI, deg F) and SI units(kPa, deg C).White, red, and blue illumination colors are available. The illumination color cannot be switched.Pictures may differ from the real products by processes and photography conditions, etc.


Meter
Unit
Size
USDM models
(Imperial unit)
SI models
2 1/16in.
(52mm)
2 3/8in.
(60mm)
3 1/8in.
(80mm)
Turbo/Boost
PSI, inHg
kPa
A
A
N/A
Pressure
PSI
kPa
A
A
N/A
Temperature
deg F
deg C
A
A
N/A
Exhaust Temp.
deg F
deg C
A
A
N/A
Volt
V
V
A
A
N/A
Tachometer
RPM
N/A
N/A
A

| | |
| --- | --- |
| A: AVAILABLE | N/A: NOT AVAILABLE |
Warning
Racer Gauge cannot be linked to Defi-Link ADVANCE system or Defi-Link System.
Racer Gauge operates standalone. Control unit is not necessary.
Features 52mm & 60mm series
Stepping motor «STEP MASTER VS-2» provides smooth operation.
Ignition ON initiates self-luminescence gauge.


Ignition off
Ignition on
(Blue)
Ignition on
(Red)
Ignition on
(White)

Illumination using high-brightness LEDs
Lightning-like Opening / Closing mode
Opening
Closing

Self-diagnostics function monitors both sensor disconnection and short-circuiting during
startup.
a) Sensor disconnection check
This function reports any in-proper connections, broken or disconnected sensor or
sensor wire. The pointer will wave between 250 and 260 degrees.
b) Short-circuiting check
This function indicates any short circuit on the sensor or sensor wire.
The pointer will wave between 10 and 20 degrees.
Full 270 degrees sweep dial provides ultimate visibility.
A mounting bracket and instrument case is provided with the product.
The red triangle of the regular position bezel can be used as a warning indicator and others.
Does not require the Defi-Link Control Unit for use.
Features 80mm tachometer
Maximum angle of deflective 270 degrees (full sweep) is controlled by the microcomputer up to 4600 division (0.057degrees each) to provide high precision in the accuracy of information generated. The stepping motor is sufficient for quick response of all sorts of professional motorsports.
The gauge dial is invisible while the ignition switch is off. Once the ignition switch is turned on, a clear display appears by colored LED illumination. The gauge dial illumination and the red emitting needle pointer provide high visibility.

Ignition Off
Red Racer Gauge
The scale is compressed to acquire great visibility and ease of use.
*Wide-angle scale is used at the idling range 0~3,000RPM.
*The scale is fitted to recent engine power band and linear scale is used from 3,000RPM to 11,000RPM.
The gauge dial and the needle pointer performs opening and closing modes interlocked with turning N/OFF of the ignition.
The maximum RPM during driving can be stored and checked later.

There are 5 stages of brightness for the daytime and 6 stages for the nighttime. The brightness can be decreased/increased with the vehicle lights switched on/off.
Two customer-defined warning RPMs can be set. When the RPMs are exceeded, the warning LED blinks/lights up and the warning buzzer sounds.
The exclusive large-sized indicator which lights in green and red enhances the visibility of warnings in addition to the warning LED in the gauge.

  

The large-sized switch unit with light is fixable on the gauge and is also detachable.

  

Exclusive mounting band and back case
The gauge is clinched by using the exclusive mounting band and back case. Wires can be stored in the back case neatly.

Regular Position Bezel for 80mm (3 1/8″) gauge is included in the product.
*The illumination color can not be changed.