Defi-Link Meter ADVANCE BF is gauge series which need to be connected to Defi-Link ADVANCE Control Unit.
Features
Interactive communication advanced system is implemented.
Gauges can be controlled from distance with the included switch unit.
Flat glass and precise graduation scale give more needle accuracy and high visibility.

Opening and closing modes can be selected from 2 variations.
The installation of additional gauges is easy. Just connect it with the other two gauges and attach the wire to Advance Control Unit.
The illumination color can be chosen from white, amber red, and blue.
*The illumination color cannot be changed.

The light-emitting gauge always provides clear visibility with high contrast.(The brightness is 200% compared to existing models.)

The needle pointer driven by original stepping motor has a smooth instantaneous response to rapid acceleration of high performance vehicles.
Brightness can be adjusted by selecting from five levels for daytime and nighttime separately.(nighttime dimming cancellation function is available.)
The microcontroller calibrates up to 270 degree angle in 3027 – 4600 segments (0.088°- 0.059°), and provides accurate vehicle information.
Self-diagnosis system turns the warning LED on to indicate any wire disconnection, short circuit and serial communication errors.
Warning by buzzer sound when the warning LED is on (buzzer sound can be turned on / off).

Peak value and warning value during driving are stored. Driving data can be stored and replayed up to 3 minutes.
A mounting bracket, meter cup, regular position bezel are provided with this product.
With both fuel pressure gauge and turbo installed, differential pressure can be monitored on the fuel pressure gauge screen.
Specifications
Size
60mm series

Unit: mm/inches
Gauge size
60mm
2 3/8″
A
66.3
2.3
B
52.2
2.06
C
15.5
0.6
D
68.6*
2.7*
E
17.8*
0.8*
F
70.5*
2.77*
G
77.6 to 79.1*
3.05 to 3.1*
H
15 degrees*
I
32 degrees*
*When Regular Position Bezel is attached
Regular Position Bezel is not included in the package of ADVANCE BF.
80mm Tachometer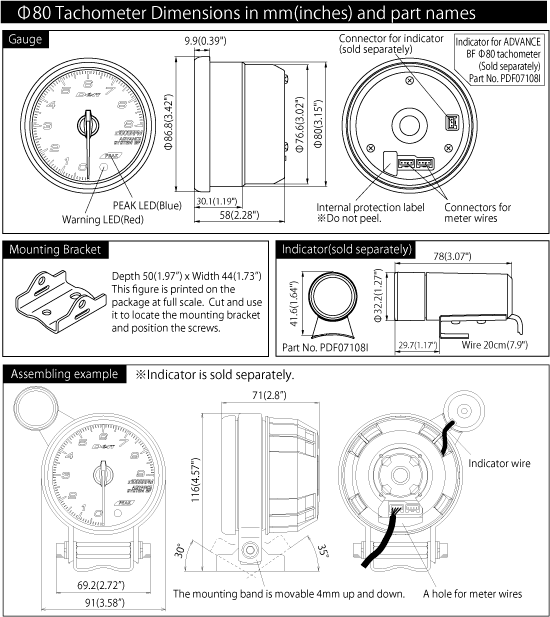 Other specifications
Power supply
voltage
Supplied from Defi-Link ADVANCE Control Unit
Current consumption
Maximum during 7 gauges are connected
+B 2A(IGN ON), 5mA(IGN OFF)
ILM 800mA
Illumination color
White, amber red, and blue
The illumination color cannot be changed.
Pointer: red
Warning LED: red
Peak LED: blue
Display range
Refer to each gauge page.
Applicable number of cylinders
1,2,3,4,5,6,8
Note
*Products is for only on vehicles with a 12V electrical system. Never use products on 24V vehicles.
*Products can not be installed in altered vehicles.
*To install pressure gauges or temperature gauges, proper sensor attachments are necessary. The thread sizes of sensors are 1/8PT.