GIAS series
Rigidity and high holdability rivaling a fixed bucket seat
By adopting a super monocoque shell structure and an all-aluminum frame, GIAS series is a sporty reclining sports seat which realizes both lightweight and rigidity. The design deeply envelops the driver and realizes high holdability.
Utilizing the LOWMAX System which enables the maximum low driving position

Because GIAS series utilizes BRIDE's patented LOWMAX System technology, it enables a low position even in a tight seat space. Even if offsets between the steering and seat centers occur, with the Lomax System it is possible to set the offset to zero*. (In some cases, certain models may not reach zero)
«All-aluminum frame» realizing lightweight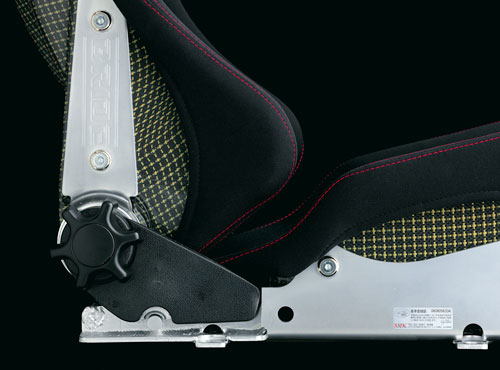 The integrated structure of the basic frame utilizing light-weight aluminum material and reclining device have enabled the realization of the lightest weight even among BRIDE's reclining sports seats as well as high rigidity.
A lightweight and highly rigid super monocoque shell
For the GIAS backrest we utilize a monocoque structure shell for decreased weight and reinforced rigidity. The shell materials we provide are 3 types including the lightweight and strong carbon aramid, the super aramid black shells which have superior tensile strength the same as carbon aramid which is only used by BRIDE, and FRP.
Shell shapes which realize the same level of holdability as a fixed bucket seat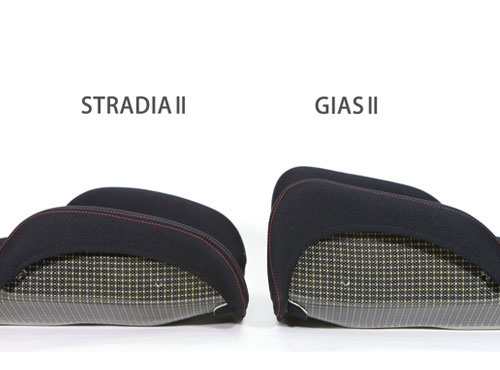 GIAS series features a shape like a fixed bucket seat with a higher thigh part. In addition to fine tuning, we also equipped it with a one-touch reclining function to create a reclining sports seat with both the holdability and ease of use of a fixed bucket seat. In addition, wide-size is available for part of GIAS lineup.