Exhaust System for Gr.N
This exhaust system was satisfied performance at PWRC with TOSHI ARAI. So we start to release this exhaust system.
We recommend this system with confidence because we set uncompromising performance, Road clearance, weight and exhaust resistance.
And we adopted stainless steel and dual partitioning type, so we can repair just Front side or Rear side.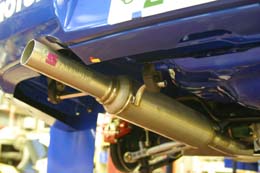 For Group N (for type C/D/E) with silencer
Remark

Including elbow catch (Modified standard part) after turbo.
Elbow catch is specified part, it can nip muffler.
So you can change muffler and turbo quickly. If you use muffler by ARAI motor sport, please use this elbow catch.。
In addition, we also are adopting exhaust system with no elbow catch.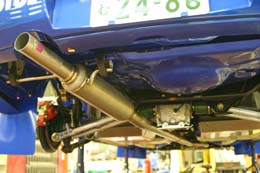 FIA approved Catalyser
Remark

It needs to set at Rally Japan which must use catalyser.

This catalyser can set with our exhaust system. If you need catalyser, please ask us.